Wet'nJoy Splash water park at Shirdi having different rides. It is a great place to cool off a day in every season and enjoy a variety of water rides and slides. The park has something for everyone, from young children to adults. The thrill, adventure, splash slides, Fun, full of entertainment have a unforgettable amazing experience with yours family/ friends.
The most popular rides at Splash Water Park include: Family/ Kids & High Thrill rides. Total 25 rides in wet n joy water park at Shirdi. Multi play station having 8 rides. Multi racer rides are three. All age group enjoy in waterpark of different rides. 

Family/Kids

High Thrill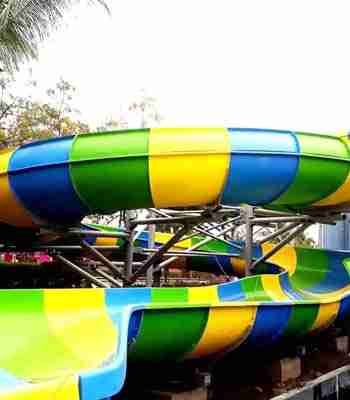 A 3/4 seater enclosed and open family slide in which riders simultaneously slide down in a round raft which turns over various twists and turns as it slides down .
A family slide that can accommodate up to three/four people and has a combination of enclosed and open sections. Riders sit in a round raft and slide down the slide, which twists and turns along the way with splash water.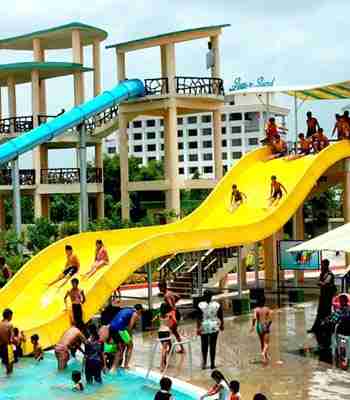 Experience the huge wave ride with your entire family! Where all members of the family can enjoy at the same moment. Wave pool filled with full of happiness, laughter, waves, fresh breeze, spending time together, splashes, etc. It's not less than a pool of refreshments which will surely rejuvenate your soul. Experience the huge wave ride at Splash Water Park with your entire family!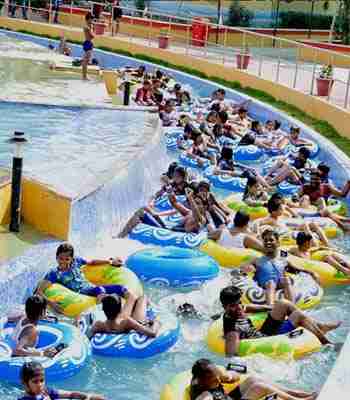 Warning- Only for lazy people! It's time to experience the Lazy Lamhe! After all your thrilling activities, it's time for your body to relax and take a laziest ride in the lazy river.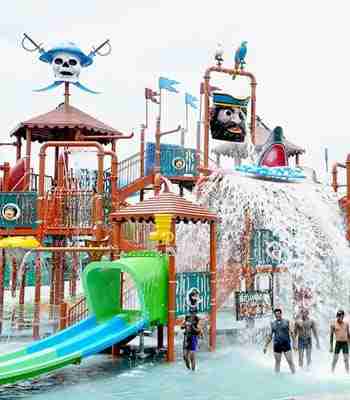 India's biggest Aqua play station is here! We serve you the plethora of wholesome adventure! This area has countless slides to suit various age groups of adventure lovers. All age groups are invited to experience the splash of happiness at Multiplay station.
Multiplay station is a great place to cool off on a hot day and have some fun with the family. It has a variety of slides for all ages, including body slides, tube slides, and family slides with splash water.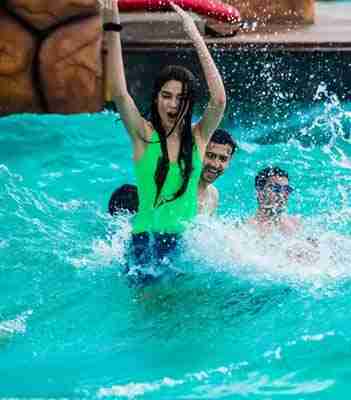 Did you ever find 8 types of different waves in a Single pool? Never right! This Thunder wave pool is a 30,000 square feet wide wave pool, which is the next version of the real peaceful beach.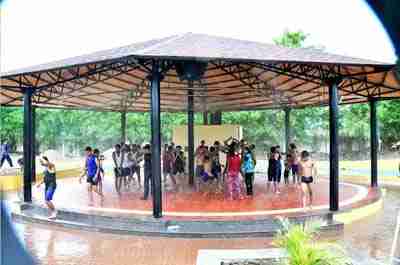 A floor to explore your great moves has arrived! Gather your crazy gang and Dance your heart out to the latest songs played by our famous in house DJ.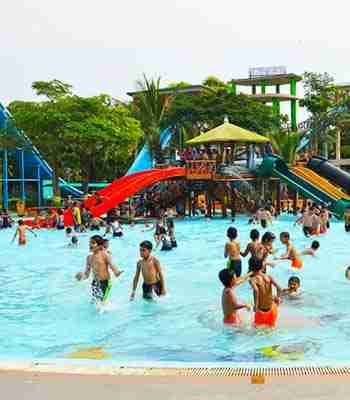 Its kid's Splash Party Time! Kids can dive into the huge wave pool of happiness, let them enjoy the bliss of a umbrella waterfall, let them live every single moment in the pool with our exciting toys and games, which are designed just for your little ones!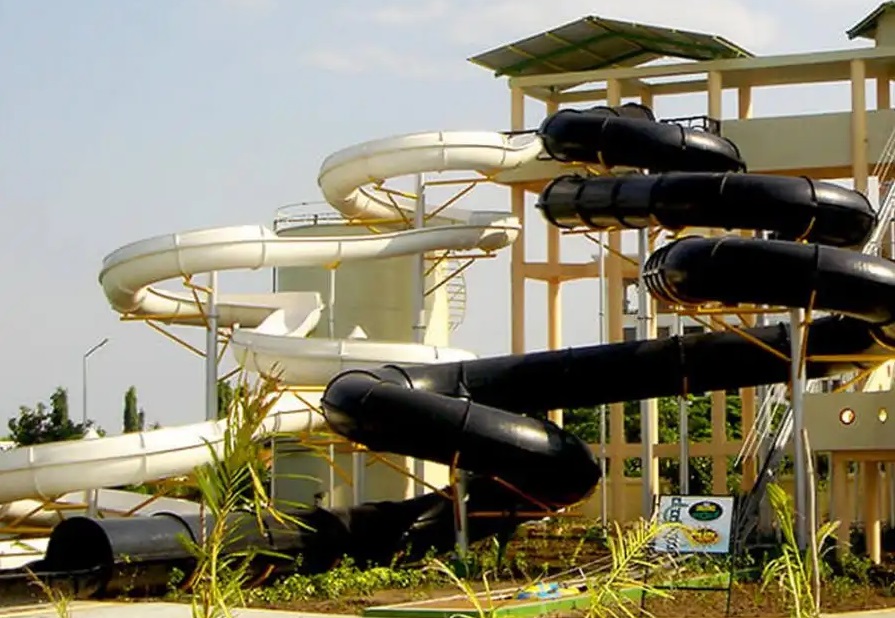 A four-story speed slide that sends you flying down a 90 foot. Height of the rider must be above 4 feet.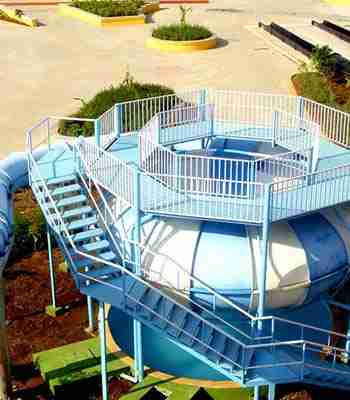 Cyclone is one of our best slides. Aqua cyclone, slides down from a great height, through a huge cyclone shaped slide, in which you slide freely until you aren't dropped through a splash hole to reach the pool. You can't stop the cyclone that's about to explode ! It is a freefall slide,The slide is shaped like a cyclone, which gives it a unique and exciting ride experience.The slide ends in a splash hole, which riders drop through into the pool.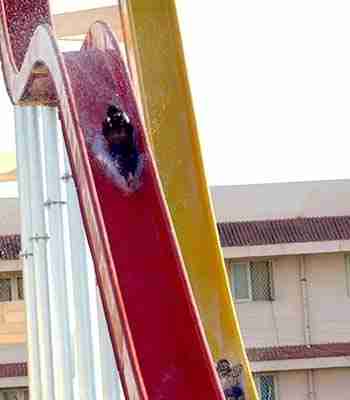 Dare Devil drop slide is known for its high thrill drop! The breath taking drop from the great height will leave your pulses running fast! One who dares to attempt this slide can attempt any slide in the park. I Dare You! It is a freefall slide, which means that riders slide down the slide without any assistance.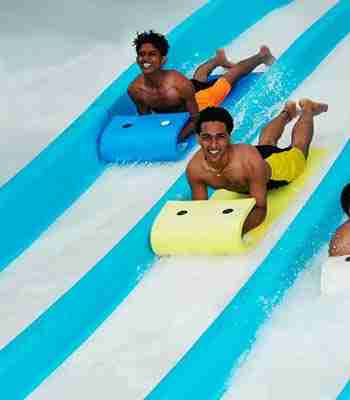 A crazy slide in which you race on a mat with your friends & family that drops everyone in a huge pool. So, grab your mat and Ace the Race !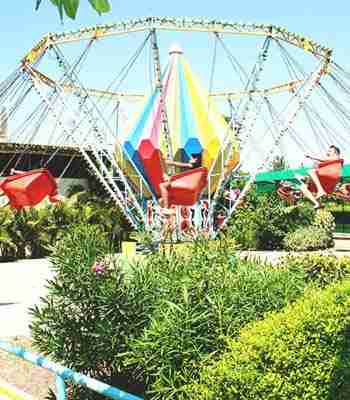 Swing in a chair like never before. Spin your adventure journey with this magical dryland ride! Hold your seat, spin at a great speed, and scream out loud! Let the adventure be audible to the people around you.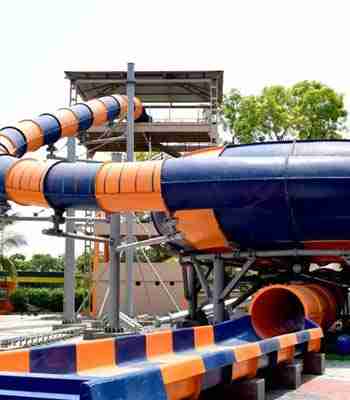 A slide with the most sensational experience that will turn your vision into reality! A slide that travel through various tunnels and gives you an extreme level of thrilling experience only at Tornado Land!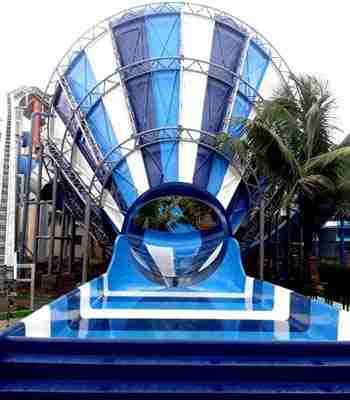 The funnel of adventure is ready to serve you the feeling of the most exhilarating ride of your life! You slide through a thrilling series of twist and turns and then drop into the core of the funnel where you share 4 to 5 vertical oscillations before exiting the flume into the final plunge.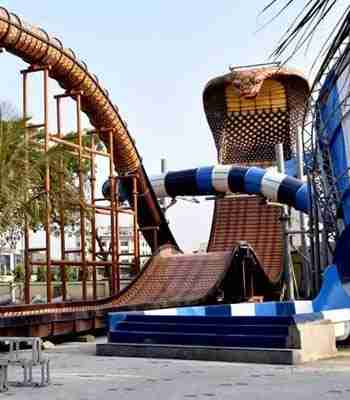 You, Me and Tube! Slide the adventurous journey with your partner on a curvy tube from a great height, as it slides you up and down at a blink of an eye!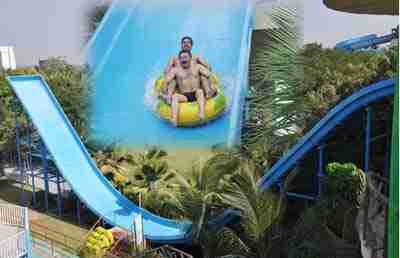 It's time to try something uncommon! It is a rare massive slide. Get ready to swing like a pendulum, which will increase the level of thrill and give you an indelible experience of your life.
It's time to try something uncommon! It is a rare massive slide. Get ready to swing like a pendulum, which will increase the level of thrill and give you an indelible experience of your life.
Splash Riders can get soaked on the Wavy Ride, the Swing Chair, and the rain dance area.
There are a variety of slides for kids of all ages, including a lazy river, a kids' pool, and a water playground.
The park splash area is a great place for families to relax and have some fun together. There are a variety of water features in the park splash area, including a wave pool, a lazy river, and a rain dance area.